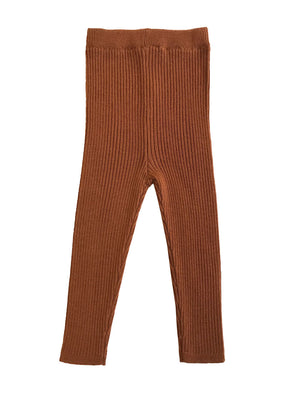 Sylfaen Skinny Legs - Cinnamon
Regular price $62 now $37.20
Slim fit pants in a super soft 100% Extra-fine Merino Wool in a fine 2x2 rib knit and elasticated waist.
The rib structure makes these super stretchy and comfortable to wear.  Long in the legs to roll up and accommodate as they grow.
These match perfectly with our Sylfaen Skinny Rib Jumpers.  Great as loungewear or layering pieces. 

Cool machine wash on wool cycle.
Inspired by designer Lisa Roberts children, Mabli's line offers beautiful knits made from 100% extra-fine merino wool, organic pima cotton and linen. With a versatile fit and slow fashion aesthetic, Mabli's clothes are designed for longevity; fitting your little one for a longtime, later to be treasured and passed down for generations to come.