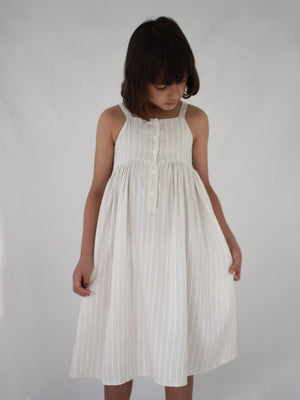 Picnic Dress - Birch Woven Stripe
Regular price $92 now $55.20
Effortlessly cool and perfectly timeless, this dress will be lived in and loved through the warmest summer days. The Picnic dress is midi in length, with feature wooden buttons lining the front and a twirl factor to make this piece a sure favourite.

100% Linen
Model is 7 years old and wearing size 7-8y
Garment Care

Passing Afternoon--While the weather is getting cooler in many parts of the world, many are dreaming of escaping to somewhere warmer, even if only for a passing afternoon . We invite you to peruse our Resort capsule collection, with a palette that evokes the warm glow of the setting sun you will be transported to another time and place. As always, the collection is designed to be layered as required, to take you seamlessly through the seasons and is mindfully crafted from natural materials.